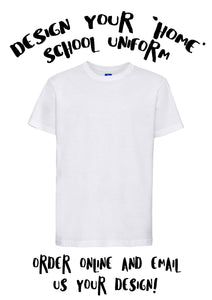 Design your own 'home' school uniform!
Help your little ones keep a sense of 'home time' and 'school time' and get them excited to be 'home' schooled with their very own uniform!
~ Why not have fun coming up with your 'home school' name and design a logo?
~ Or personalise a t-shirt with their name.
All you have to do is design what you'd like on the t-shirt and email me the design!
If you can't print the image out, no worries! Just drawn a rough T-shirt shape, add your design, take a photo with your phone and email across! I'll redesign it so it's printable 👌🏻
The design must only be in 1 or 2 colours (as these will be time consuming to cut/print) and be able to be cut from vinyl. 
Take a look at my other products if you need an idea of what is possible with vinyl.
The base of the t-shirt will be white so make sure you use bright colours for your design! 
Email designs to hello@adaandalfred.com